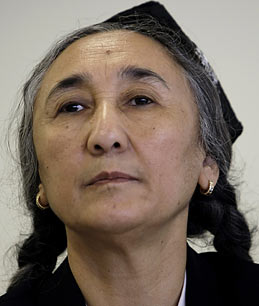 In East Turkestan, China, there have been reports of anti-virus quarantine and medical measures being carried out in the so-called Xinjiang Uyghur Autonomous Region.there are the constructions are being built as quarantine measures in the areas far from residential areas, people are being forced to consume unknown medicine on top of 3 million Uyghur who have been detained in the camps for the last 4 years.
These issues concern all of Uyghur activists in the diaspora seriously.
Are these camps to isolate people from their warm families? Is the medicine given to people for treatment from the virus or for the national security purpose ?
Are our brothers and sisters in Chinese prisons in inland Chinese provinces waiting for death or are their bodies being made testing objects for Chinese bioweapon ?
 No matter how beautiful and famous name China calls it,  We have all rights to doubt the health and usefulness of the measures that China took to prevent the spread of the Virus.We can't expect the fair and humane treatment from a government who put more than 3 million people in camps to exterminate the Uyghur nation in the name of fighting against extremism and terrorism.
Tens of thousands of prisoners have been released from prisons during the plague in Iran; in the United States and other countries, prison inmates have been given the opportunity to protect themselves from the virus, but China has not released any of the more than 3 million detainees held in the camps; they ignored the warnings of experts; they didn't care what anti-virus measures were taken in the camps, because it is clear from China's white papers and executions that China does not need lives of Uyghur; it only considered about  natural resources of Uyghur land. For the sake of Chinese national security, a healthy Uyghur is threatened.
I therefore urge the international community to monitor China's quarantine and medical measures it took on Uyghur people and press China to provide detailed information in this regard, and to conduct an independent investigation.
 Rebiya Kadeer
The leader of the Uyghur National Movement